Featured
Featured
Featured

When it comes to creating long-lasting, top quality vehicles, few automakers are in the same league as Nissan. While the Japanese automaker is indeed proud of each and every car, truck, and SUV it creates – many of which are built right here...
Read This Article>

The Nissan Altima is one of the best-selling cars in America and proudly takes its place as the centerpiece of the Nissan lineup. The Altima has been winning fans over for years while simultaneously pleasing owners thanks to its stellar style, premium interior design, and expansive functionality.
Read This Article>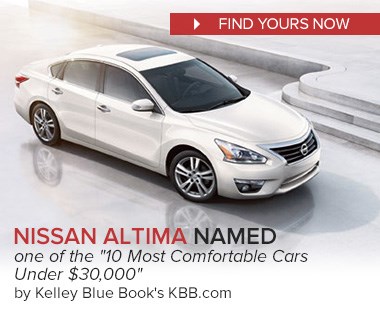 Auto Reviews
Auto Reviews
Auto Reviews
The new generation of the Nissan Pathfinder has taken on a new lease on life for 2014, with its exceptional features for adventure loving drivers. And with a brand new hybrid model, the Pathfinder increases its best-in-class worth.
Read This Article>
Articles
Articles
Articles

Your engine air filter is a little something that makes a huge difference. You might not even realize it's there until it's clogged, but an engine filter check is a worthwhile investment to avoid bigger problems down the road, like costly engine replacement.
Read This Article>
What are the differences?
The decision of whether to lease or purchase your new vehicle is one of the most important choices for car-shoppers to make. There are many important differences between the two which can help you make your choice. This guide highlights some of the most notable aspects.
Read This Article>
An easy homemade Halloween costume is just a few steps away
These creative costume ideas will do the "trick" for your young one, so you can "treat" yourself to some extra time and money this Halloween.
Read This Article>
The leaves are changing and everything smells like cinnamon and nutmeg, which can mean only one thing: Fall has arrived. In between picking a pumpkin to carve and bobbing for apples, take a minute to brush up on some fun fall trivia.
Read This Article>
Subscribe Now!
Sign up today to receive your monthly newsletter.
Special Offers
Special Offers
Special Offers
Location
Location
Location
Driving Directions
Sales Dept. Hours
Mon-Sat: 9:00 am – 8:00 pm
Sun: Closed
Open the last two Sundays of each month Noon-5pm
Service Dept. Hours
Mon-Fri: 7:00 am – 6:00 pm
Sat: 7:00 am – 2:00 pm
Sun: Closed